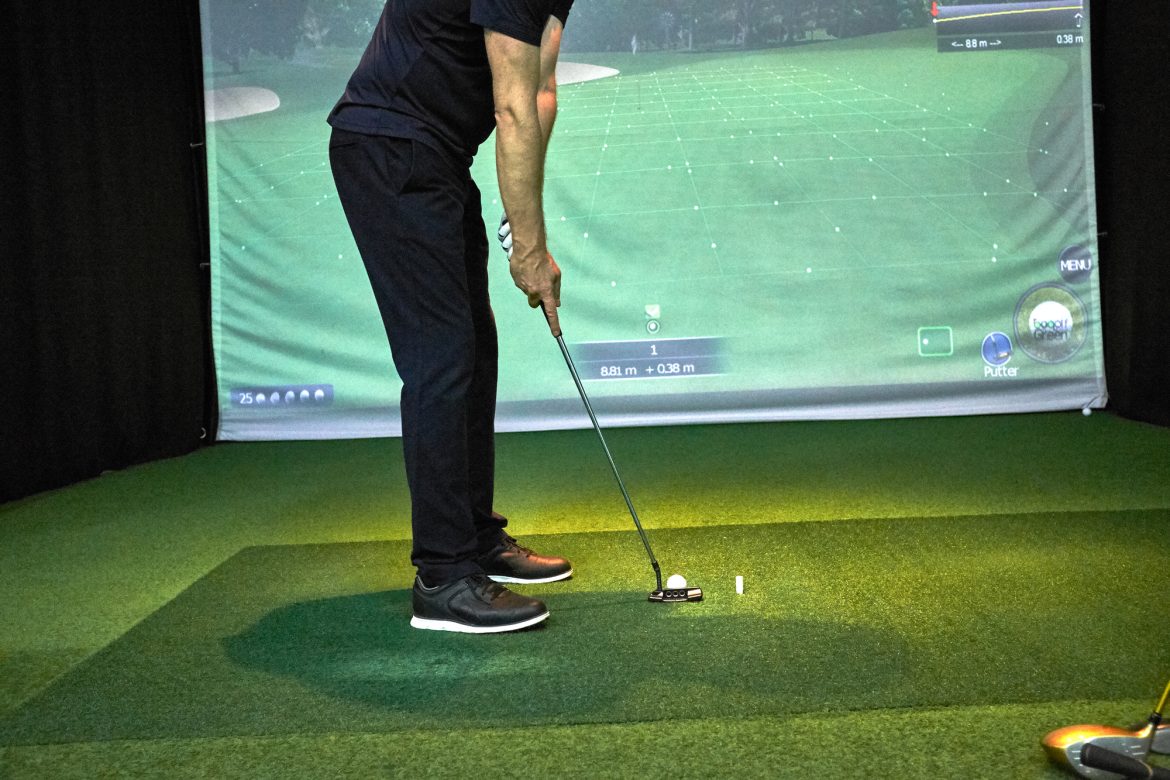 "The golf swing is like a suitcase into which we are trying to pack one too many things." – John Updike
Whether you're an amateur golfer or a pro, there's nothing quite like the experience of an indoor golf facility that offers a golf swing analysis. Over the past few years, indoor golfing has become an increasingly appealing alternative to the outdoor driving range with its inconsistent climate, lack of privacy, and shortage of analytic equipment.
Playing for fun or competing at the highest levels of golf, it requires a place that provides year-round training, practice, and instruction. One of the biggest benefits of an indoor golf facility is the use of high technology software that provides video swing analysis.
Golf simulators, such as GOLFZON used by Swing Zone Golf, offers the most advanced simulator technology, including golf swing analysis to its users.
What is a Golf Simulator?
"A golf simulator allows golf to be played on a graphically or photographically simulated driving range or golf course, usually in an indoor setting. It is a technical system used by some golfers to continue their sport regardless of weather and time of day in converted premises."
Swing Zone's golf simulator is equipped with high-speed cameras and sensors to follow your swing, the movement of the club, the impact of the club on the ball, and the ball's trajectory. Its custom settings allow the user to play in various conditions such as location, wind, and weather. The moving swing plate permits the golfer to adjust and simulate uphill, downhill, and sidehill slopes. Additionally, the hitting mats offer realistic likenesses of various surface conditions such as rough, sand, and fairway.
Golf Simulator Technology
GOLFZON's technology gather's the data, interprets the data, and provides feedback of the analysis of that data. The information is conveyed to the user regarding their golf swing, any issues that may need to be focused on, and suggestions about how to fix those issues.
By tracking the golf swing from start to finish, golfers can focus on the dynamics and process of the swing itself, and less about the result. The HD video swing analysis is like having personal paparazzi filming your every move. It tracks your progression, changes, and results of your swing.
Golf Swing Analysis
A golf swing analyzer, such as GOLFZON, is used to examine the mechanics of your swing to determine causes of hooking, slicing, and other issues. Knowing what's wrong allows you to improve on them. GOLFZON uses high-tech software to capture information such as club head speed and position, ball distance and projection, and the swing path. Its analysis can provide recommendations regarding improvements on swing mechanics as well as where you stand when you swing. In addition, biomechanics including your head movement, body alignment, hand position, and stance are also taken into consideration to give you the most comprehensive golf swing analysis.
For the best in golf swing analysis, try Swing Zone Golf, your leading indoor golf facility.