NEW LEAGUES ARE STARTING SOON!
HOW DOES THE LEAGUE WORK?
The league is a 9 hole scramble with teams of two competing each week. Players are handicapped giving beginner, intermediate and advanced golfers the chance to play, have fun and compete. There are six weeks of regular season followed by two weeks of playoffs. Weekly prizes and winners' prizes are up for grabs!
For complete league rules, click HERE.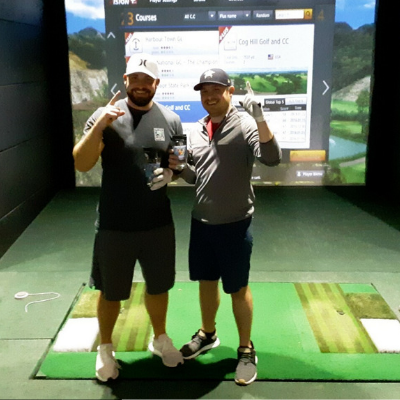 DAY / TIME: Wednesday Evenings 7 pm to 9:30 pm
DATES: 6 weeks (January 15th – February 19th) + 2 playoff weeks
FORMAT: 9 hole scramble with handicap with 2 person teams
WEEKLY ENTRY FEE: $20 per player or $40 per team
HOST YOUR OWN LEAGUE AT SWING ZONE GOLF?
We make it easy! We'll run and coordinate your league letting you just have fun and play.  Your players will enjoy playing on over 180 courses on the world's best and most accurate simulators.  Our software keeps track of scores and rankings that can be viewed anytime on our app. Plus, your players will enjoy our drinks, food and the comfort and flexibility of golfing indoors! Email us at info@swingzonegolf.com for details.